What are the Environmental Initiative Awards?
The Environmental Initiative Awards is our annual recognition program that celebrates people and projects working in partnership at the nexus of a healthy environment, a prosperous economy and an equitable society.
We bring together partners from across the environmental community and our organizational work to honor award recipients during an inspiring night of networking and celebration.
Each year, we open nominations mid-January through mid-February, select winners with our stakeholders in March, open registration for the Awards event in March, and hold our annual celebration in May. We are holding the 2020 Environmental Initiative Awards as an online celebration due to the ongoing COVID-19 pandemic.
Environmental Initiative works across difference to create spaces where people can openly exchange ideas and build solutions to complex environmental challenges through partnership. The Environmental Initiative Awards celebrates that spirit of collaboration.
Deepen Your Involvement
Connect with Lillie Benowitz via email or call her at 612-334-3388 ext. 8107 to learn more about the Environmental Initiative Awards and how you can plug in.
2020 Judges
Thank you to the 2020 Environmental Initiative Awards judges who evaluated and selected the 2020 Project Category Winners through consensus.
Emmy Baskerville, Houston Engineering
Levi Brown, Minnesota Department of Transportation, Office of Government Affairs
Alison Bryant, Antea Group
Professor Gabe Chan, University of Minnesota Humphrey School of Public Affairs
Anna Claussen, Voices for Rural Resilience
Erin E. Feehily, PLA, Barr Engineering
Kevin Johnson, Stoel Rives LLP
Chris Nelson, 3M
Joe Otte, Wenck
Ken Podpeskar, Environmental Law Group
Jennifer Tonko, Minnesota Humanities Center
Tai Ullmann, Cargill
Anita Urvina Davis, North Minneapolis Resident, Member North Side Green Zone, MPCA Environmental Justice Advisory, Northern Metals Advisory Committee & Metropolitan Council Equity Advisory Committee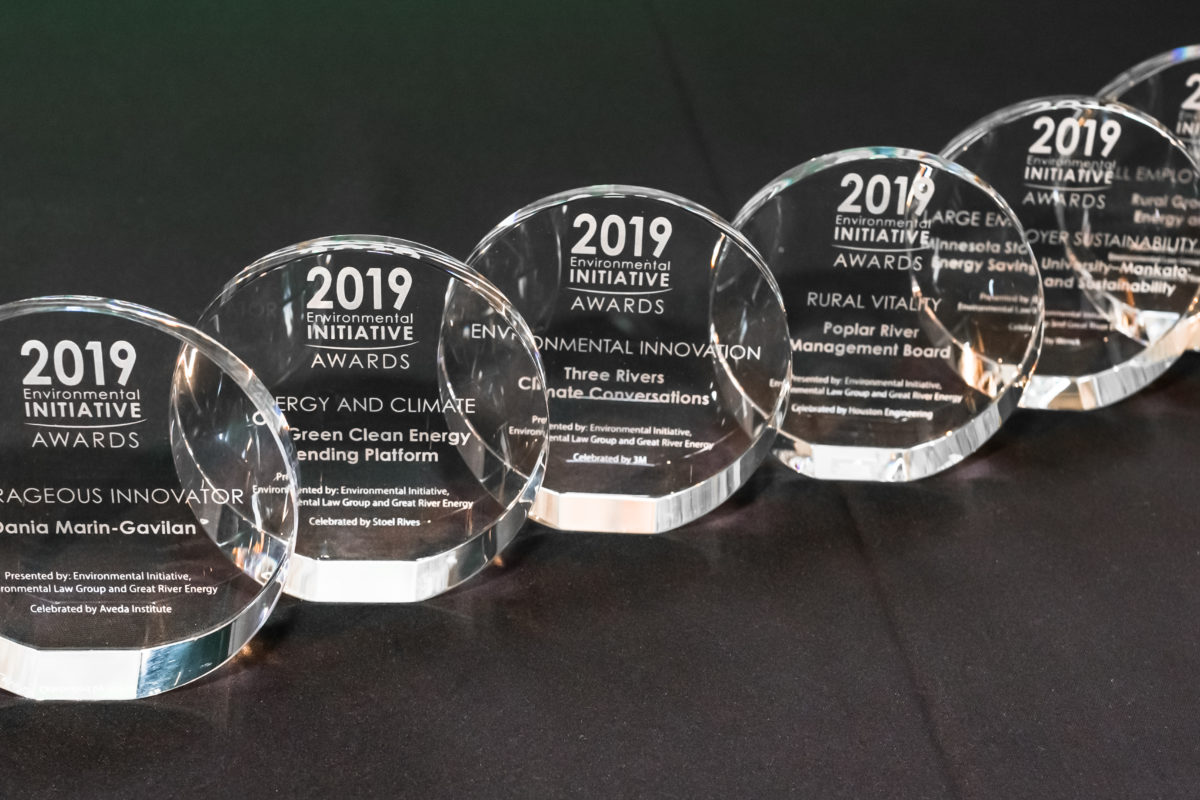 Support Environmental Initiative
We believe collaborative partnerships are essential to solving complex environmental challenges. In lieu of tickets for the 2020 Environmental Initiative Awards, please consider financially supporting the values and approach at the foundation of the Awards.
Donate $30 to Environmental Initiative